Ok... time for some interesting deck reviews!
This time its for the lastest Promo. Yup. Its Exodios!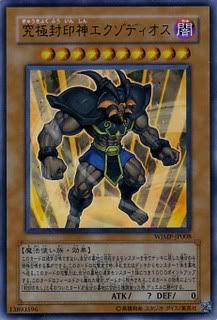 WJMP-JP008
Exodios, the Ultimate Forbidden God
究極封印神エクゾディオス
Level 10/Dark - Spellcaster/Effect
Att/Def: ?/0
Effect: This card cannot be Normal Summoned or Set. This card cannot be Special Summoned except by returning all Monster Cards from your Graveyard to your Deck. When this card attacks, send 1 Monster Card from your hand or Deck to the Graveyard. The original ATK of this card is equal to the number of Normal Monsters in your Graveyard x 1000. When this card is removed from the field, it is removed from play. If 5 different cards with "the Forbidden One" are discarded by the effect of this card, you win the Duel.
Returning all monster cards from the grave to the deck is a cost. So keep your D.D. birds to yourself! There are many many ways to win with this card. Its quite big in terms of level. 10 stars also means metamorphosis into Cyber End Dragon, one of the very favourite ways nii-san would love to use. Or even giving opp 5 ojama tokens and using Diffusion Wave Motion. Den u send all 5 parts of Exodia into the grave! My version of the OTK would be A.R.T which also means Advanced Ritual Technique. I played it with Demise and it showed results!
Well... as I said before... the correct deck with the correct hand wins... lol.
Total: 41
Monsters: 27
Exodios, the Ultimate Forbidden God x 3
Manju of Ten thousand hands x 3
Senju of the Thousand Hands x 2
Sonic Bird x 2
Opressed People x 3
D.D. Trainer x 3
Charcoal Inpachi x 3
Blue Eyes White Dragon x 1
Genetic Werewolf x 2
Demise, King of Armageddon x 3
Relinquished x 2
Magic: 11
Advanced Ritual Technique x 3
Contract with the Abyss x 1
Heavy Storm x 1
Cyclone x 1
Hurricane x 1
Limit Lift! x 1
Card Destruction x 1
Metamorphosis x 2
Early Burial x 1
Trap: 3
Royal Decree x 3
The deck is pretty straight forward. Considering it looks like any of the typical OTKs around now. Limit Lift is either for the first Demise to clear the field den procede to Exodios + ART another Demise for 8 level 1 normal monsters, or Relinquished to clear opponent's monster.
Other than such kill cons, there isn't much left except unless you fail to OTK and try to go for beatdown. You can always use those 2000 butt guys to defend alittle while you get to draw your combo. Decree is for obvious reasons...
So thats about it. A short review but hope you guys will go try this fun OTK out...
Any comments to improve the deck are always welcomed. =)
Next is to try to throw Exodios into a full circle... haha.