Hi! Its Kenneth here finally doing a report on today's World Championship that took place at Kallang Leisure Park.
Colin - 48th
Me - 43rd
Yes omg we've became noobs!
I probably won't talk about my matches since all of them are practically crappy.
Its either a Dark Armed variant or Lightlord. Nothing else. I only won 3 and lost 2 matches in the swiss rounds and since everyone I play with has imbalanced luck (ppl summoning afew Dark Armed Dragons/Judgement Dragoon in a turn)I am quite speechless about my lost. lol.
A pic of the top 8 winners: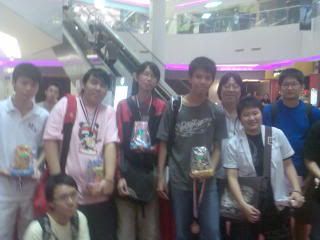 Don't ask me who are all of them, I can only recognise Sebestian, Fish, Baha, Wan Xin & Eu Yong Siang. Ok thats actually quite alot... and one guy seems to be missing from the picture.
I only know Baha was 1st and Fish was 2nd.
Grats to Bahamut84 from
Dueling Days
for winning this year's 2008 World Championship tournament.
To those who didn't do well (esp me and Colin), lets just try harder next time!