Hi its time for another card review!
Yup. Its the new Value Book 10 promo! Fossil Dyna Pachycephalo.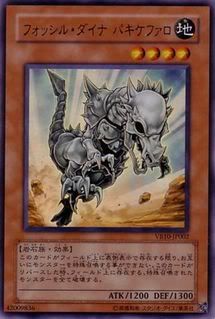 「フォッシルダイナパキケファロ」
VB10-JP002 Fossil Dyna Pachycephalo [Ultra Rare]
EARTH/Rock/4/1200/1300
While this card is face-up on the field, neither player can Special Summon. When this card is flipped face-up, destroy all monsters on the field that were Special Summoned.
Looking at the stats, its not a really nice monster to play as a beatstick. 1200 attack means ALOT of things can kill this small monster easily.
However, this card's effect is really good. It is definitely better than Jougen the Spiritualist because it has an additional effect.
Yup. Its the when it is flipped, NOT just flipped summoned, it destroys all monsters on the field that were Special Summoned. You can combo this with Ceasefire, Desert Sunlight or if opponent activated Swords of Revealing Light. However, it also destroys any of your own monsters which were special summoned too. So be careful when you use this card.
I tested this card and is good to have on the field so that your opponent can't special summon their own Gors when you direct attack them. They can't Premature Burial, return their own Tree Born Frog, Summon another D-Hero Diabolicguy, Special summon Cyber Dragon or anything that has to do with Special summon.
I tested this card with non other than Mist King! Since these two promo cards came together, it would be nice to test them out together too. So, look out for Colin's review for Mist King soon!